The Underground Explorer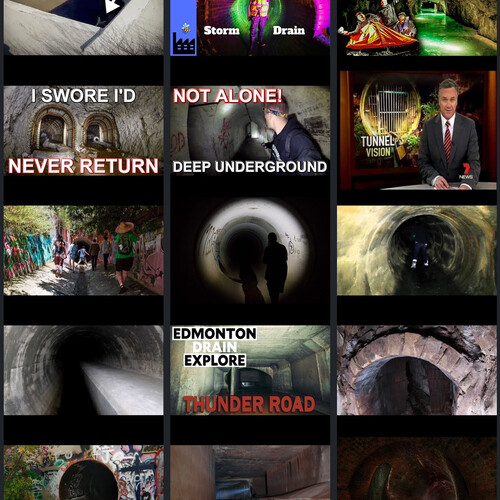 Stealth Camping In Storm Drain[1]
The Amphitheater Drain[2]
Exploring the Triple Helix Storm Drain[3]
The Secrets of Underground Britain[4]
Inside abandoned Aldwych station[5]
Down Street Underground Ghost Station[6]
A working train surprises us![7]
Underground forgotten secret city (Manchester UK)[8]
Britains Area51[9]
BURLINGTON BUNKER[10]
A dooms day preppers secret abandoned cave[11]
No one should be allowed to enter here!![12]
Storm Drain Exploration, Angry Raccoon!![13]
Storm Drain Exploration, Under Our Neighborhood[14]
Candy Cane Drain[15]
Saw a Coyote![16]
Exploring a Storm Drain[17]
Exploring Forbidden Tunnels Underneath The City[18]
Dangerous Tunnels[19]
WW2 Tunnel[20]
Secret Tunnels[21]
Team exploring Melbourne's 'Maze Drain'[22]
Exploring an RBT Drain[23]
Under Drain, Episode no.1[24]
Exploring a HUGE underground drain network[25]
Exploring the Thunder Road storm drain in Edmonton[26]
Urban Exploring Old Abandon Sandstone Cave Sanitary Sewer Tunnels in Minnesota[27]
Exploring Storm Drain Tunnels Beneath Hemet, CA[28]
Exploring The Largest Storm Drain In The Country[29]
Craig Drain Exploration[30]
BUNKER STORM DRAIN, North West UK[31]
The fascinating world of drains[32]
The journey to Sheffield's Megatron[33]
The Longest & Deepest Canal & Railway Tunnels in Britain[34]
The underground world of River culverts[35]
The Macclesfield River Bollin Culvert Explore[36]
Storm drain explore gone wrong[37]
We found a sealed underground safe house with emergency power[38]
Mission To Core of Deep Underground Maze-like Complex[39]
What I've learned from exploring sewers by Steve Duncan[40]
Urban Underground Exploration Steven Duncan[41]
Bear Mountain Bridge and a missing belt[42]
Searching for the entrance to an underground river...[43]
Ninja Turtles Sewer Pizza Party[44]
References
[1]: https://www.youtube.com/watch?v=KJ7F3xpGFfo
[2]: https://www.youtube.com/watch?v=ER_bSdOjWTQ
[3]: https://www.youtube.com/watch?v=iNc1ALBP3Xk
[4]: https://www.youtube.com/watch?v=C0F8qWFL0_M
[5]: https://www.youtube.com/watch?v=-nd2mHJu3Rk
[6]: https://www.youtube.com/watch?v=Q_N9QQvQGms
[7]: https://www.youtube.com/watch?v=_eedI9XhSP4
[8]: https://www.youtube.com/watch?v=fZGTdy_C_Qo
[9]: https://www.youtube.com/watch?v=XxcaUDZxKM4
[10]: https://www.youtube.com/watch?v=POxr7cKtxnA
[11]: https://www.youtube.com/watch?v=NC43LFZWhu8
[12]: https://www.youtube.com/watch?v=jRqT3932rkU
[13]: https://www.youtube.com/watch?v=8_Fl12h_Ipo
[14]: https://www.youtube.com/watch?v=Hq13NRG9PF8
[15]: https://www.youtube.com/watch?v=1CxxnBNxJTk
[16]: https://www.youtube.com/watch?v=89qYhjALTBE
[17]: https://www.youtube.com/watch?v=cnkeXbevhB4
[18]: https://www.youtube.com/watch?v=YcDVbIisJaA
[19]: https://www.youtube.com/watch?v=Z3O2uBqYANo
[20]: https://www.youtube.com/watch?v=XEYeZRTFBvg
[21]: https://www.youtube.com/watch?v=mv4elezfLBQ
[22]: https://www.youtube.com/watch?v=89PlOvXR0dE
[23]: https://www.youtube.com/watch?v=f3OYSWBRWLw
[24]: https://www.youtube.com/watch?v=BIP6gv2f8Sk
[25]: https://www.youtube.com/watch?v=Fyhhatyymos
[26]: https://www.youtube.com/watch?v=H6ghAlrE-no
[27]: https://www.youtube.com/watch?v=mIZipqTUU3A
[28]: https://www.youtube.com/watch?v=OzmTjKnuirc
[29]: https://www.youtube.com/watch?v=hVzxGhaoRXs
[30]: https://www.youtube.com/watch?v=olWHGeu1jt8
[31]: https://www.youtube.com/watch?v=eF4d5OLDDLI
[32]: https://www.youtube.com/watch?v=dqvG2SdRcI0
[33]: https://www.youtube.com/watch?v=Q-nYZ3IG6P8
[34]: https://www.youtube.com/watch?v=5xbtXYAlKhc
[35]: https://www.youtube.com/watch?v=uQ2sgR6b6zo
[36]: https://www.youtube.com/watch?v=whOlmVRoY-w
[37]: https://www.youtube.com/watch?v=5sq3YZU1OEs
[38]: https://www.youtube.com/watch?v=t6UsxiDu8aU
[39]: https://www.youtube.com/watch?v=2ch9qckJh_4
[40]: https://www.youtube.com/watch?v=TS1kuG-Z78g
[41]: https://www.youtube.com/watch?v=tMb_GFU6Rco
[42]: https://www.youtube.com/watch?v=JaWH0rSGwaI
[43]: https://www.youtube.com/watch?v=bPpYJ2g4wWQ
[44]: https://www.youtube.com/watch?v=GqTWdP2wSaU