The Concept Artist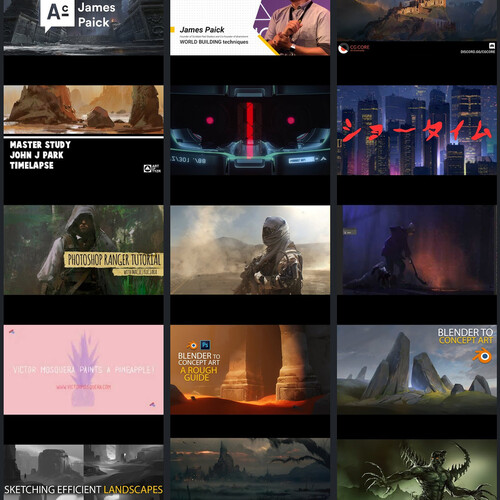 Level Up Your Character Design with Knight Zhang[1]
How To Be a Character Designer[2]
What Makes A Good Character Design?[3]
SO YOU WANT TO BE A CONCEPT ARTIST?[4]
Character Designer vs Concept Artist Whats the difference anyway? (Japanese vs. US culture)[5]
Illustration VS Concept - Why do some companies want Sketches and others want paintings?[6]
Want to be a CONCEPT ARTIST? Are you SURE? (You have to create worlds.)[7]
Biggest Artistic Style Influencers - Asking Pros[8]
Meet the artist: Shaddy Safadi[9]
Level Up! Session 50 with FENG ZHU (See how he sets-up up his palette at 15:20, and keep watching for amazing speed concept shortcuts)[10]
Cam Sykes: Character Design/Illustration Tutorial - Tribal Hunter (Full Length)[11]
Jason Chan Character Design 1: Style Exploration - Adobe Photoshop[12]
Jason Chan: Character Design 2: The Hero[13]
Jason Chan Character Design 3 - The Villain[14]
Why Self Trained Artists Struggle to Evolve[15]
environment concept art tutorial[16]
Get better at painting characters w/ Alex Negrea[17]
5 Important tips to Improve your architecture drawing.[18]
#26 James Paick[19]
World Building Techniques | James Paick: James Paick[20]
CG Core - Live Stream - Episode 002 - John Park[21]
John J. Park master study- Time lapse[22]
MECHA[23]
Showtime ショータイム Anime Short[24]
Ranger Tutorial[25]
Concept Illustration Techniques - Photobashing[26]
victor mosquera Sketching[27]
Pineapple Painting Process[28]
Blender to Concept Art: A Rough Guide[29]
Blender to Concept Art Process[30]
How To Sketch Landscapes: Tutorial[31]
Into the Marshlands-30min photoshop speedpainting[32]
Demon speedpainting[33]
Gilles Beloeil demonstrates the process of creating art for Assassin's Creed[34]
Last Man Standing - Dan Luvisi Interview - Art Department Podcast[35]
Meet the artist: Dan LuVisi[36]
Concept Art Panel: Dan Luvisi[37]
Brush and Painting Demonstration by Tuomas Korpi[38]
The Art Of Tuomas Korpi[39]
Cedric Peyravernay[40]
How to use Reference to Draw like a Pro Artist![41]
Jorge Jacinto[42]
Shadow of the Colossus Speed Paint | Jorge Jacinto 🇵🇹[43]
Claire Hummel: In the Valley of Gods[44]
90MAC with Pablo Carpio[45]
Grzegorz Rutkowski[46]
Hunter Painting Tutorial[47]
Krita for concept art part 1. Jama Jurabaev brushes.[48]
Concept Art In Krita with Photobash [TIMELAPSE][49]
Winter station. Krita digital painting. Drawing process.[50]
MY COMPLETE DIGITAL PAINTING PROCESS[51]
References
[1]: https://www.youtube.com/watch?v=CjiKlLE3NuI
[2]: https://www.youtube.com/watch?v=rjPoNHn9C8M
[3]: https://www.youtube.com/watch?v=euTe191sAWg
[4]: https://www.youtube.com/watch?v=y85k6_OAugI
[5]: https://www.youtube.com/watch?v=tl_c6VqkPQI
[6]: https://www.youtube.com/watch?v=q05Ikl-uUB8
[7]: https://www.youtube.com/watch?v=p-qG3Anfdaw
[8]: https://www.youtube.com/watch?v=k8kPZuRBfL8
[9]: https://www.youtube.com/watch?v=aOma3suNWgY
[10]: https://www.youtube.com/watch?v=ACmsvwI4V84
[11]: https://www.youtube.com/watch?v=ol_kwYCjw5w
[12]: https://www.youtube.com/watch?v=1no3IVKnOmM
[13]: https://www.youtube.com/watch?v=_R-1PzteXSc
[14]: https://www.youtube.com/watch?v=b2VCjqGcTFA
[15]: https://www.youtube.com/watch?v=CyXcRqK2no4
[16]: https://www.youtube.com/watch?v=p1WRKyFbBHE
[17]: https://www.youtube.com/watch?v=nWNhLDPpvH4
[18]: https://www.youtube.com/watch?v=emy3wjOHk3U
[19]: https://www.youtube.com/watch?v=1Tn9acIsqi0
[20]: https://www.youtube.com/watch?v=fdkUL7yRMRs
[21]: https://www.youtube.com/watch?v=lDiS1nSOrNU
[22]: https://www.youtube.com/watch?v=xGIQc9oqo4c
[23]: https://www.youtube.com/watch?v=77lwl48Z4as
[24]: https://www.youtube.com/watch?v=8klu345BezU
[25]: https://www.youtube.com/watch?v=52ttshQ2aVk
[26]: https://www.youtube.com/watch?v=Gag18ScKQdM
[27]: https://www.youtube.com/watch?v=qUw3pqj4h5Y
[28]: https://www.youtube.com/watch?v=Yl2XViFA2zs
[29]: https://www.youtube.com/watch?v=r5ZyW7K_yP8
[30]: https://www.youtube.com/watch?v=-xu9hZUt9tc
[31]: https://www.youtube.com/watch?v=_e6wTOuJ20M
[32]: https://www.youtube.com/watch?v=H4mWdWYIX-0
[33]: https://www.youtube.com/watch?v=BXeRstFL9i8
[34]: https://www.youtube.com/watch?v=D0qBkPnZBTw
[35]: https://www.youtube.com/watch?v=CaGsCTRSfDo
[36]: https://www.youtube.com/watch?v=7VNtrN84uR4
[37]: https://www.youtube.com/watch?v=JgWEatdP11U
[38]: https://www.youtube.com/watch?v=zIe-DCyA92g
[39]: https://www.youtube.com/watch?v=51ug3UE_a1E
[40]: https://www.youtube.com/watch?v=Abk7BQKRlUU
[41]: https://www.youtube.com/watch?v=O0XBvJ4OFvo
[42]: https://www.youtube.com/watch?v=N4-Hmu_OIiE
[43]: https://www.youtube.com/watch?v=lpywvjJ4oWQ
[44]: https://www.youtube.com/watch?v=FK58L7rSdTw
[45]: https://www.youtube.com/watch?v=A-s0p9NyiFQ
[46]: https://www.youtube.com/watch?v=bAo1rtedTaw
[47]: https://www.youtube.com/watch?v=q2Cu2OUPLsU
[48]: https://www.youtube.com/watch?v=Isatf5H3jC4
[49]: https://www.youtube.com/watch?v=BCm1x753iPo
[50]: https://www.youtube.com/watch?v=E_ck992vWh8
[51]: https://www.youtube.com/watch?v=aMHJFdgRjYk