The Pop Surrealist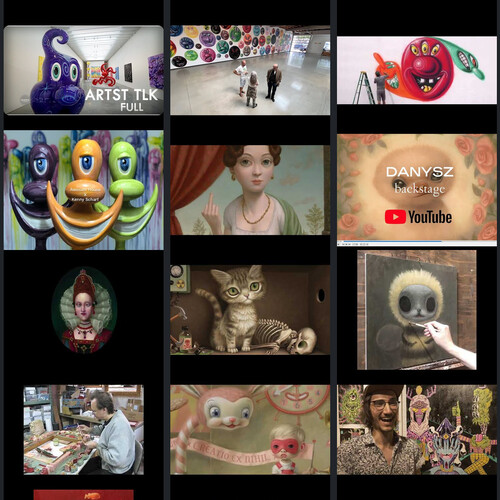 Lowbrow artist Aidan Jarvis[1]
Amy Sol[2]
La 'magia' di Amy Sol[3]
Behind the Scenes for The Birth of Wormoid ✿ making sculptures for a pop surreal painting[4]
Polina Picking Pears 🍐 Neon Folk Art Painting Time Lapse[5]
BEBE BEAN painting process[6]
Runaway Mocha miniature painting time lapse - Pop Surreal art process[7]
Introducing Brad 'Tiki Shark' Parker[8]
The creation of Sea Witch by Low-Brow Tiki Artist Brad 'Tiki Shark' Parker[9]
Artist Tiki Shark's lawsuit vs CafePress goes to federal court[10]
Camille Rose Garcia interview for 2018 Solo Show[11]
Meet LA Artist Camille Rose Garcia[12]
Artist Camille Rose Garcia's Alice's Adventures In Wonderland[13]
Artist Profile: Cyrus Fire[14]
De La Naturaleza, Cyrus Fire, Gustave Caillebotte Full Episode[15]
Esao Andrews Studio Visit[16]
Esao Andrews project[17]
Esao Andrews: Time lapse installation from Petrichor[18]
Esao Andrews - Poisonous Birds (His Book)[19]
Painting a White Rabbit and a Bluejay in 'Back Outside'[20]
Harley Quinn, Cat Woman and Poison Ivy get a Craola Makeover in this time-lapse Painting[21]
'Rook's Move' /Acrylic painting / Time-lapse painting / Demonstration / Art Inspiration[22]
Inside the studio of Kayla Mahaffey for 'Remember The Time'[23]
Video Tour of Kayla Mahaffey, Roos van der Vliet, and Jon Burgerman Exhibitions.[24]
Karim Rashid,Kenny Scharf & Pharrell: Art Meets Design | ARTST TLK™ Ep. 10 Full | Reserve Channel[25]
KENNY SCHARF : MOODZ[26]
Kenny Sharf · How I approach A Mural[27]
Collecting A Living Legend... Awesum House x Kenny Scharf[28]
The art of Marion Peck[29]
[Backstage] Marion Peck studio visit[30]
The Art Of Marian Peck[31]
Mark Ryden - Schrödinger's cat - Superposition[32]
Bee painting time lapse Mark Ryden[33]
Pink Lincoln by Mark Ryden.[34]
Primera retrospectiva en Europa de Mark Ryden[35]
Mitchell Willard - Lowbrow Psychedelic Pop Art[36]
Paintings by Olga Esther[37]
Inside the studio of Olga Esther for 'Princesses, Gender Mandates and Other Stories'[38]
Ray Caesar - Paintings[39]
Tribute to Ray Caesar[40]
Ray Caesar[41]
RAY CAESAR - Inauguration - The Trouble With Angels - Solo Exhibition - Torino[42]
UnitedNColor Presents: The Artist Shag[43]
The Art of Shag[44]
SHAG : MY TIKI CUP RUNNETH OVER[45]
SUNNY BUICK doing The Tiger Dance[46]
Mural at MUJAM by Sunny Buick[47]
Livre / Book SCI-FI WESTERN - Sunny Buick (Last Gasp)[48]
Tara McPherson - TEDx Brooklyn 2011[49]
The Wanderers by Tara McPherson Time Lapse[50]
The Crystal Waterfall by Tara McPherson Time Lapse[51]
Otis Ben Maltz Gallery: Todd Schorr: Designed for Extinction[52]
In Conversation: A Tale of Two Schorrs[53]
Todd Schorr: American Surreal - Technique[54]
Inside the studio of Yosuke Ueno's for 'Majestic Parade' showing at Nexus III[55]
Yosuke Ueno 上野陽介 'HAPPY GO LUCKY' solo exhibition at VINS Gallery[56]
Opening Reception of Alex Garant, Yosuke Ueno, and TikToy[57]
Low Brow artist Robert Williams Interview[58]
Robert Williams: The Father of Exponential Imagination opening at BAM - New Day Northwest[59]
Robert Williams 'Godfather of Lowbrow Art' - Lecture on Juxtapoz Art and Culture[60]
References
[1]: https://www.youtube.com/watch?v=H8y-lxNfl0g
[2]: https://www.youtube.com/watch?v=_MK9wjMJFew
[3]: https://www.youtube.com/watch?v=rACM4FFefi0
[4]: https://www.youtube.com/watch?v=6lNhylkR-wo
[5]: https://www.youtube.com/watch?v=UlbbY7RY2Po
[6]: https://www.youtube.com/watch?v=kzCS8R_2PkI
[7]: https://www.youtube.com/watch?v=grVSYki2_yc
[8]: https://www.youtube.com/watch?v=1hGRLxxUOFw
[9]: https://www.youtube.com/watch?v=jlKWNcvVcLw
[10]: https://www.youtube.com/watch?v=NvAF2ze0aKc
[11]: https://www.youtube.com/watch?v=XpORFfzp6kk
[12]: https://www.youtube.com/watch?v=zh1vD8u_lJU
[13]: https://www.youtube.com/watch?v=oEX4vUWYcr4
[14]: https://www.youtube.com/watch?v=vAwaCBtvY04
[15]: https://www.youtube.com/watch?v=CIBG2MFAJ9U
[16]: https://www.youtube.com/watch?v=VDY57M6atFI
[17]: https://www.youtube.com/watch?v=DLCvymvdpyo
[18]: https://www.youtube.com/watch?v=YCvffGHJjJQ
[19]: https://www.youtube.com/watch?v=W9WBw8vp6ag
[20]: https://www.youtube.com/watch?v=ZwrKpUJ8N5E
[21]: https://www.youtube.com/watch?v=8N6pf42ZoX0
[22]: https://www.youtube.com/watch?v=TX71LfV6WnM
[23]: https://www.youtube.com/watch?v=LV0m7MTYTWc
[24]: https://www.youtube.com/watch?v=scvrBnkunaw
[25]: https://www.youtube.com/watch?v=24GEe2J1qkE
[26]: https://www.youtube.com/watch?v=xr_Dm4RCqM8
[27]: https://www.youtube.com/watch?v=6IQzdGtzq0o
[28]: https://www.youtube.com/watch?v=2n3KgcMQpZ8
[29]: https://www.youtube.com/watch?v=theku-AILNo
[30]: https://www.youtube.com/watch?v=jnnZuxAb0_0
[31]: https://www.youtube.com/watch?v=FFL9hmWBzJA
[32]: https://www.youtube.com/watch?v=pBOIQcdX8lg
[33]: https://www.youtube.com/watch?v=Fz2gVtEsHnE
[34]: https://www.youtube.com/watch?v=0hHWh-mP-no
[35]: https://www.youtube.com/watch?v=_scsuI5V8zs
[36]: https://www.youtube.com/watch?v=50iMMkofscY
[37]: https://www.youtube.com/watch?v=lCOwAzEOkyI
[38]: https://www.youtube.com/watch?v=XNAkQqozWtE
[39]: https://www.youtube.com/watch?v=qKMcW-ZCO-Y
[40]: https://www.youtube.com/watch?v=1FYZbYAXvRs
[41]: https://www.youtube.com/watch?v=VdNY3-E7Y48
[42]: https://www.youtube.com/watch?v=bwzKP36ZsHQ
[43]: https://www.youtube.com/watch?v=XKuqm2U5rpM
[44]: https://www.youtube.com/watch?v=FMTovWo80RA
[45]: https://www.youtube.com/watch?v=cXE7H1bby0U
[46]: https://www.youtube.com/watch?v=908Y3T9oyYU
[47]: https://www.youtube.com/watch?v=se8L6J8fg0I
[48]: https://www.youtube.com/watch?v=s4IJdIQgJ7Y
[49]: https://www.youtube.com/watch?v=bTVQhvVfSNo
[50]: https://www.youtube.com/watch?v=svVYOqIcm_U
[51]: https://www.youtube.com/watch?v=2zbMNJQ43jA
[52]: https://www.youtube.com/watch?v=UkB-G6Bkvp4
[53]: https://www.youtube.com/watch?v=wcgpnIv8K8c
[54]: https://www.youtube.com/watch?v=8l4CtDin800
[55]: https://www.youtube.com/watch?v=ElBRAJ34k5U
[56]: https://www.youtube.com/watch?v=8AR_tvI_PEo
[57]: https://www.youtube.com/watch?v=FHOHYJ46d-8
[58]: https://www.youtube.com/watch?v=VmqrIp5Jtlo
[59]: https://www.youtube.com/watch?v=MMUbpdaRbAU
[60]: https://www.youtube.com/watch?v=rdhl9yhm270