The Beach Bum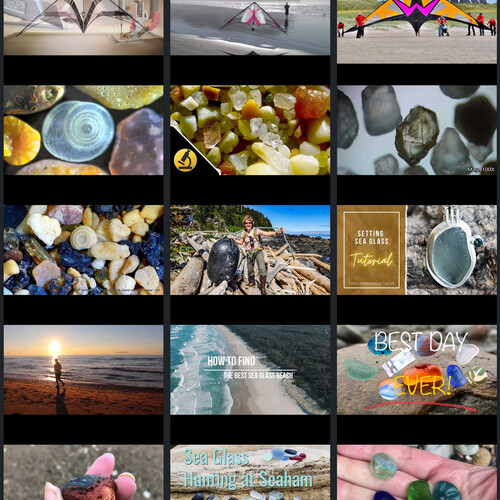 The Ice Beard Surfers of Lake Superior[1]
Body Surfing - 2021 Coolum Wedge Championships[2]
Come Hell or High Water[3]
How To Body Surf With Keith Malloy - Surf Sufficient[4]
Fishpeople[5]
How a van helped turn a beach bum into a surfing mogul[6]
Living on a Beach in Hawaii For 2 Months[7]
How I TRAVELED THE WORLD For 30 YEARS (Casually mentions his books :)[8]
How I TRAVELED THE WORLD For 30 YEARS (Part 2)[9]
Sea And Song[10]
Living on a Self-Sufficient Sailboat for 10 Years[11]
Olympic National Park[12]
Ozette to Shi Shi Beach[13]
Shi Shi Beach Point of the Arches[14]
Texas SandFest[15]
Incredible sand castles[16]
Beyond the Castle[17]
Advanced Sandcastle Techniques ❤️[18]
Sand Castle Shaping (Moats!!!)[19]
Sandcastle Shaping[20]
High Speed Video of Sandcastle Construction[21]
Drip Sandcastle (I thought I invented that)[22]
Team KiteLife[23]
Rev auf Fanö 2009[24]
How it is made[25]
stunt kite prototype[26]
6th Wolsing kite meeting in july 2016[27]
Grains of Sand under a microscope[28]
Sand Under the Microscope[29]
Beach Sand Under the Microscope[30]
Sand Under the Microscope[31]
Beach Combing In Alaska![32]
Setting Sea Glass[33]
6 Tips for Sea Glass Hunting[34]
How to Find the Best Sea Glass Beach[35]
Beachglass, Sea Marbles & Surprises[36]
One Hour Seaham seaglass challenge![37]
Sea Glass Hunting at Seaham & Vane Tempest Beaches[38]
A Hidden Seaglass Paradise!!![39]
Clean and Polish Sea Glass[40]
Tumbling a 5 lb rock with a Thumbler's Model B rock Tumbler[41]
The Biggest Rock I've Tumbled - Unakite[42]
Tumbling Crazy Lace Agate[43]
Cattail Boat[44]
Primitive Raft Build for Survival Fishing in Remote Wilderness[45]
Building a Raft to Survive on![46]
The INSANITY of INDONESIAN Boat Building![47]
Diving the Hermes Wreck Bermuda (The Bermuda Triangle!)[48]
What's At The Bottom Of The Great Blue Hole?[49]
Ocean Cave Discovery![50]
Bird Cage Cave Dive! (The longest cave in the world!)[51]
Blue Grotto in Florida![52]
Exploring Ocean Caves in Exuma[53]
Hoffmann's Cay, Bahamas[54]
Ice baths in Sweden[55]
NORDIC ICE BATH[56]
ICE HOLES[57]
Swimming In ICE HOLE[58]
Monster Clams[59]
Training On A Tropical Island[60]
DIY Raft ● From 2L Pop Bottles ![61]
Neanderthals: The First Sailors?[62]
The First Men to Cross the Oceans[63]
References
[1]: https://www.youtube.com/watch?v=vo1BzyBwZ1E
[2]: https://www.youtube.com/watch?v=JDxV2j818tg
[3]: https://www.youtube.com/watch?v=JbVvTLHZFWo
[4]: https://www.youtube.com/watch?v=EblpNV_13Jc
[5]: https://www.youtube.com/watch?v=Vejz78dhfZk
[6]: https://www.youtube.com/watch?v=F0taG18FGkw
[7]: https://www.youtube.com/watch?v=lWGAQnMIG1A
[8]: https://www.youtube.com/watch?v=DjWNbExHfhc
[9]: https://www.youtube.com/watch?v=rQ1GOPIxobg
[10]: https://www.youtube.com/watch?v=F8GtuIHXrqI
[11]: https://www.youtube.com/watch?v=lk83N2u1ZmY
[12]: https://www.youtube.com/watch?v=fzlOe1I6NNk
[13]: https://www.youtube.com/watch?v=5I8vGOca0SQ
[14]: https://www.youtube.com/watch?v=_eSdeobthKE
[15]: https://www.youtube.com/watch?v=qNIWPZssBuo
[16]: https://www.youtube.com/watch?v=aQak5S-hWls
[17]: https://www.youtube.com/watch?v=kWJ6GZQilVI
[18]: https://www.youtube.com/watch?v=ApahRBH_r1E
[19]: https://www.youtube.com/watch?v=dSwS-UipI8g
[20]: https://www.youtube.com/watch?v=PLfVnZHwHJ8
[21]: https://www.youtube.com/watch?v=BQoFUOTAN9Q
[22]: https://www.youtube.com/watch?v=w52R77Hg1zE
[23]: https://www.youtube.com/watch?v=q605tlRYWF0
[24]: https://www.youtube.com/watch?v=OKqZU4WwTS0
[25]: https://www.youtube.com/watch?v=o3w7HkPtuvc
[26]: https://www.youtube.com/watch?v=yFn0jp212II
[27]: https://www.youtube.com/watch?v=8q73Af4I2PI
[28]: https://www.youtube.com/watch?v=k_JQTe09_YY
[29]: https://www.youtube.com/watch?v=YX7aS1KheWE
[30]: https://www.youtube.com/watch?v=aGVe2QNz1BE
[31]: https://www.youtube.com/watch?v=0XVlf4gV6_0
[32]: https://www.youtube.com/watch?v=C6vZjn2EcfQ
[33]: https://www.youtube.com/watch?v=j79imqXjg94
[34]: https://www.youtube.com/watch?v=w_xyJoD2_vg
[35]: https://www.youtube.com/watch?v=9nngzlN9mQE
[36]: https://www.youtube.com/watch?v=lC45eIx_2Ps
[37]: https://www.youtube.com/watch?v=r1hTNMufI6g
[38]: https://www.youtube.com/watch?v=Jb39xHlkmJc
[39]: https://www.youtube.com/watch?v=pBNxkoimX08
[40]: https://www.youtube.com/watch?v=YkDdFiMIWAo
[41]: https://www.youtube.com/watch?v=tQGyPCPp-kU
[42]: https://www.youtube.com/watch?v=4eX-IcZtZfU
[43]: https://www.youtube.com/watch?v=ksrmpPZrAuU
[44]: https://www.youtube.com/watch?v=XG5Qqm1u3fE
[45]: https://www.youtube.com/watch?v=UwXJhijUV5w
[46]: https://www.youtube.com/watch?v=nINXbjTJOHk
[47]: https://www.youtube.com/watch?v=1peV_LX5FTU
[48]: https://www.youtube.com/watch?v=wEnVKtg8QMw
[49]: https://www.youtube.com/watch?v=4ZcEtPFdRaQ
[50]: https://www.youtube.com/watch?v=q71_qtf2KNA
[51]: https://www.youtube.com/watch?v=4AQQk3y3Qg0
[52]: https://www.youtube.com/watch?v=_zj_H0vUbLU
[53]: https://www.youtube.com/watch?v=6mjLF_L4LJg
[54]: https://www.youtube.com/watch?v=LI6RCBHvMFc
[55]: https://www.youtube.com/watch?v=CLz7Z1LrGe4
[56]: https://www.youtube.com/watch?v=_TKNXoq7UKg
[57]: https://www.youtube.com/watch?v=FlDl__7WEWc
[58]: https://www.youtube.com/watch?v=toXhLPi231o
[59]: https://www.youtube.com/watch?v=EBxERHMUwrA
[60]: https://www.youtube.com/watch?v=a4oQsL1Z2kI
[61]: https://www.youtube.com/watch?v=sy95m1Q6EeE
[62]: https://www.youtube.com/watch?v=4dR9YiIMrpM
[63]: https://www.youtube.com/watch?v=engWBTqeUD0